Blue Spruce
Chicagoland's Top Rated Local® Tree Services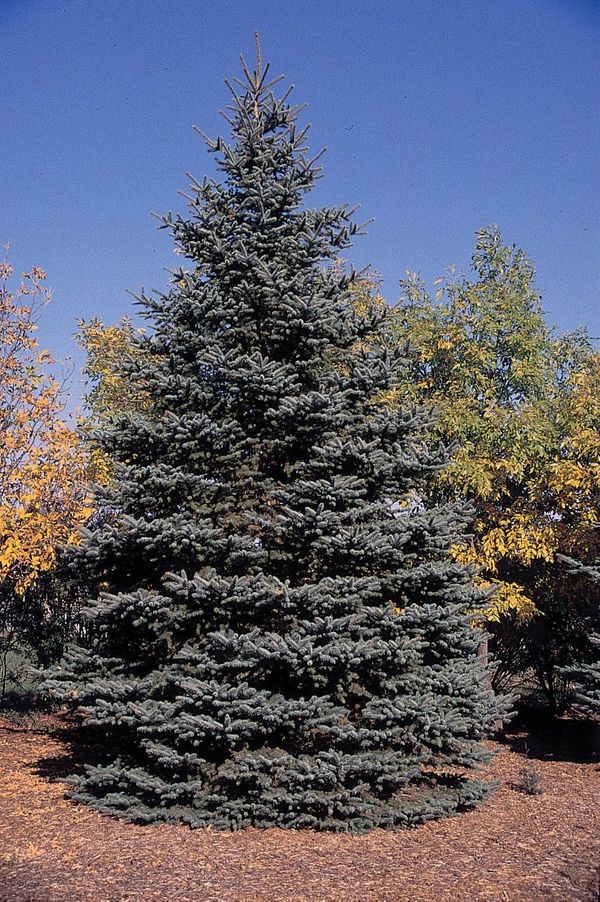 Blue Spruce
Although blue spruces are native to Colorado and the Rocky Mountain region, they have become a staple for many Chicagoland backyards and gardens, thanks to their stunning silvery-blue needles and wonderful smell. Blue spruces also make for great Christmas trees, and their boughs can be used for other Christmas decorations, such as wreaths, garlands, and more. Traditionally, the Navajo and Keres Native Americans used blue spruce as a medicinal treatment for colds, stomachaches, and rheumatic pain. Today, many people use blue spruces as an attractive year-round addition to homes, parks, and gardens.
Botanical Name: Picea pungen
Family (English): Pine
Family (Botanic): Pinaceae
Leaf Retention: Evergreen
Shape: Pyramidal
Soil Tolerances: Moist, well-drained soil
Height: 30-60 feet
Width: 10-20 feet
Common Blue Spruce Cultivars
Dwarf Blue Spruce – The dwarf blue spruce is a popular ornamental shrub, thanks to its hardiness and minimal maintenance needs. Use these small, blue beauties for low hedges, entryways, mixed borders, and more. They also add a nice splash of color to darker areas of your garden.
Prostrate Blue Spruce – This low-spreading cultivar is perfect for rock gardens, water features, slopes and hedges. Growing an average of 1 foot tall and 8 feet wide after 10 years, the prostrate blue spruce is a sprawling, free-form shrub that can give your residential or commercial landscape a graceful, undulating form.
Fat Albert Blue Spruce – Despite its comedic name, this variety of blue spruce is one of the most stunning cultivars available, thanks to its vibrant blue foliage and dense pyramidal form. Growing up to 15 feet high, Fat Albert blue spruces are a popular option for Christmas trees, but they can be enjoyed all year round. Use Fat Albert blue spruces as a centerpiece for smaller gardens or as background foliage behind beds and borders.
Hoops Blue Spruce – This larger blue spruce variety features an icy blue color that is renowned for its intensity and richness. Hoops Blue Spruces can grow up to 50 feet high and 20 feet wide, so they are ideal for larger landscapes, to help protect your property from cold Chicago winters. This vibrant cultivar looks stunning against a fresh blanket of snow and adds color to barren areas populated with deciduous trees. Hoops blue spruces are relatively resistant to pests and diseases compared to other blue spruce cultivars, and even deer will leave it alone.
Common Blue Spruce Diseases
Rhizosphaera Needle Cast – Rhizosphaera needle cast is a fungal disease that affects spruce trees. This disease is usually caused by drought or poor planting factors. To identify rhizosphaera needle cast, look out for brown or purple needles falling off your blue spruce in late summer or early autumn. Damage typically starts on the lower half of the trees and moves up as the disease progresses. To prevent rhizosphaera needle cast, avoid planting blue spruces in overcrowded areas, and make sure to call the professional tree trimmers at J & S Tree Service in Chicago for regular trimming of the bottommost branches. This helps increase circulation around the tree canopy and limit the spread of harmful pathogens. If the disease has already taken its toll, our experts can also remove the tree completely, so you can replace it with a new one.
Cytospora Canker – This fungal disease is more common in blue spruces that are 15 years or older, but it can affect any tree. In addition to age, susceptibility factors include trees weakened by mechanical injury, weather, or pests. The first symptom of cytospora canker is dying lower branches, which eventually spreads to the uppermost portions of the tree. To differentiate cytospora canker from rhizosphaera needle cast, look for elongated, slightly sunken cankers on stems and branches, which eventually exude resin. One of the best ways to prevent cytospora canker is by hiring a professional tree trimming company, such as J & S Tree Service, to trim your tree, as improper cutting promotes infection.
Common Blue Spruce Pests
Gall adelgids – These small, aphid-like insects can be found throughout Chicagoland. They feed on plant sap, causing shoots to deform and produce swelling, conical growths, known as galls.This not only leads to disfigurement, but potentially premature death. Gall adelgid infestation can be managed by applying appropriate pesticide, and removing affected trees.
Spider Mites – Another pint-sized pest that is common in Chicago, spider mites can defoliate and seriously weaken your blue spruce tree. Spider mites are so tiny that you typically need a 15-20x hand lens or small microscope to identify their wingless, convex bodies. Spider mites feed on blue spruce sap, resulting in irregularly shaped yellow spots (known as "stippling"), rusty needles, and fine webbings on needles and twigs. Insecticides are not as effective on spider mites as other pests, because they are not actually insects, but belong to the related class of Arachnida. One of the best ways to deal with a spider mite infestation is by eliminating them with a high pressure hose and pruning affected portions of plants. Call J & S Tree Service in Chicago today to learn how we can help you fight this common blue spruce pest.
Spruce Budworms – Spruce budworms are the most widely distributed forest defoliator in North America. They can be identified by their tiny, worm-like bodies, which are frequently yellow-green, along with their brown heads. Spruce budworms bore into evergreen needles to feed. Signs of damage include dead branches, sparse foliage, and an overall scorched appearance. As spruce budworms can cause severe damage, including death, for blue spruces, it is important to control an infestation as early as possible. Pesticide control is often expensive and ineffective, so it is recommended that property owners control spruce budworms through tree thinning and removal of dead and dying trees, which can pose a fire hazard around homes and buildings. Get in touch with the tree removal and tree thinning professional at J & S Tree Services today to learn how we can help you manage a spruce budworm infestation.
Chicagoland Tree Services
J & S Tree Service is here for all your Chicagoland tree service needs, including blue spruce disease and pest treatment or prevention. We are bonded, licensed, and fully insured, so you can feel confident that your property is in good hands. J & S Tree Service specializes in tree removal, tree trimming, stump removal, storm damage cleanup, and commercial tree removal in Chicago and the surrounding area, Get in touch today to learn more!